Check Out Our Case Studies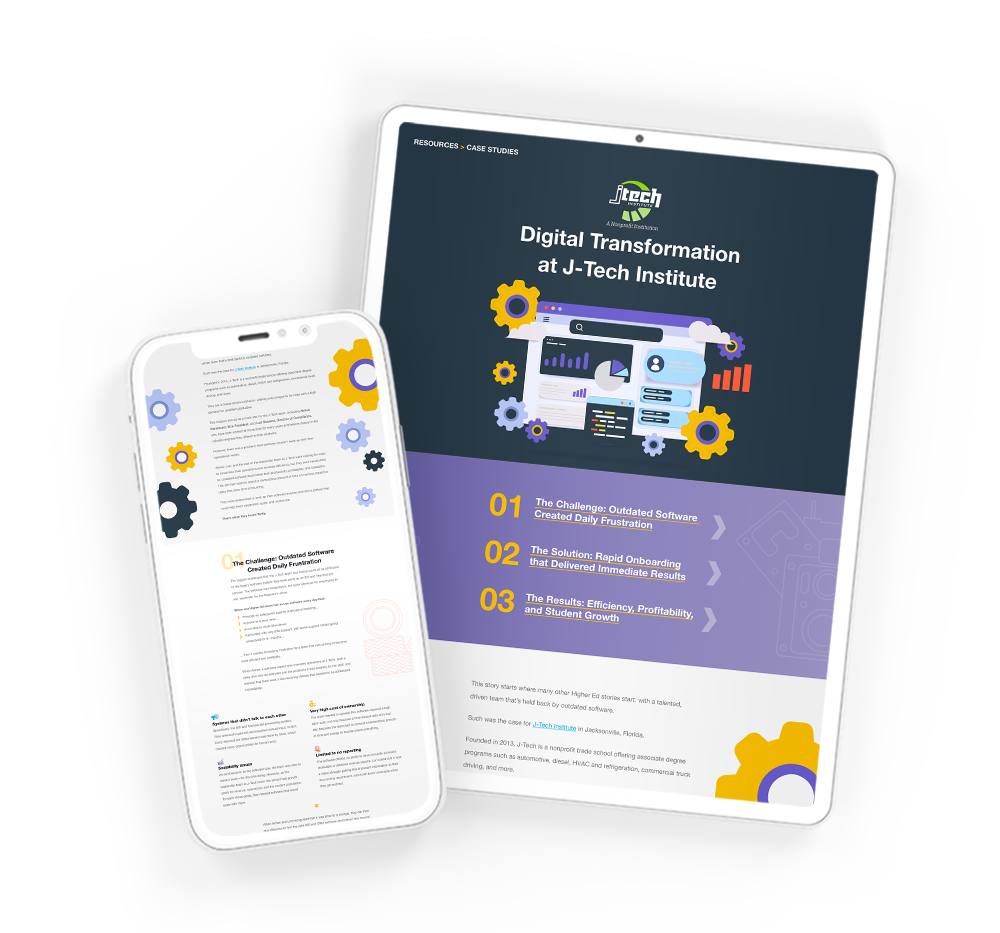 Digital Transformation at J-Tech Institute
Learn how J-Tech Institute transitioned from a legacy software system that required manual data entry, offered limited reporting, was prone to human error, wasn't scalable with their growth goals, and had a high cost of ownership to experiencing incredible results with Verity.
Before: A slow, error-prone software tool that required manual data entry, limiting efficiency, scalability, and profitability.
After: Reduced time spent on manual data input while growing student population all without hiring any additional roles.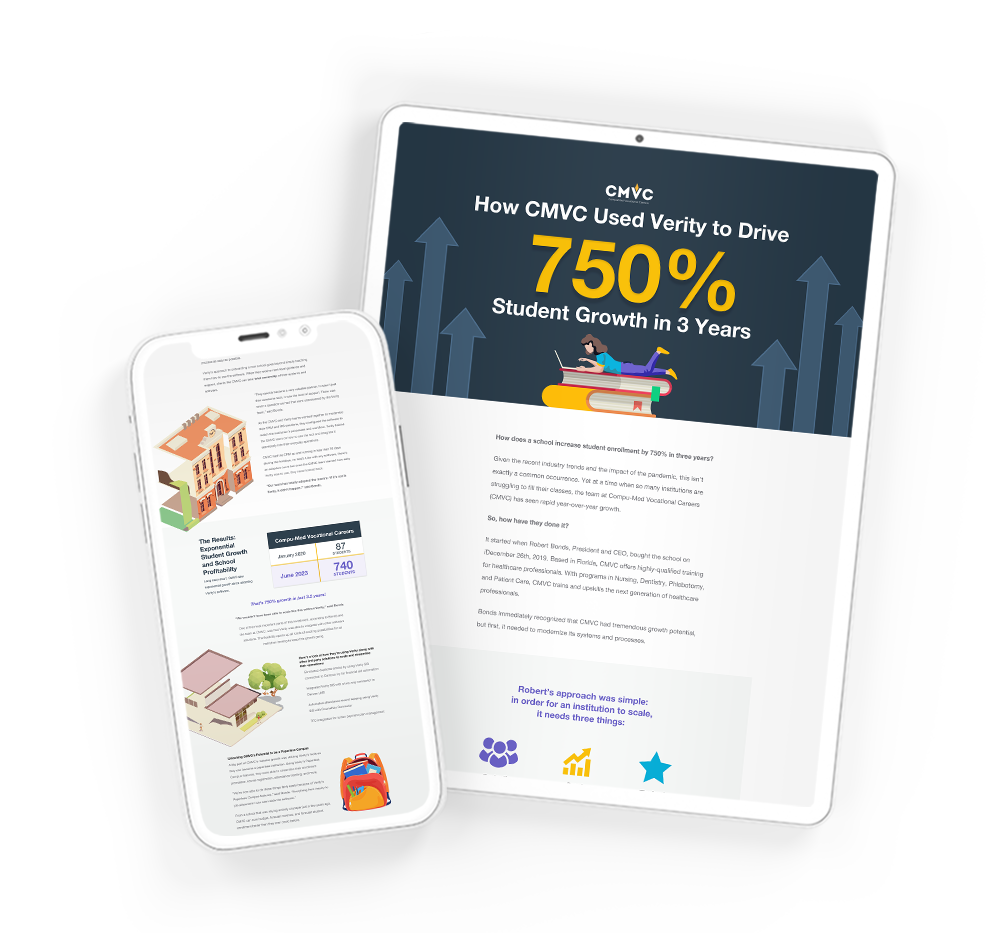 How CMVC Increased Student Enrollment by
750%
in 3 Years
Learn how Compu-Med Vocational Careers leveraged Verity's software to drive new student applications, maintain compliance, and create a single source of truth to budget, forecast revenue, and forecast student enrollment better than they ever could before.
Before: Relying too much on paper documents which made their processes time-consuming and prone to errors.
After: Exponential student growth, streamlined operations, increased profitability, and delivering a better student experience.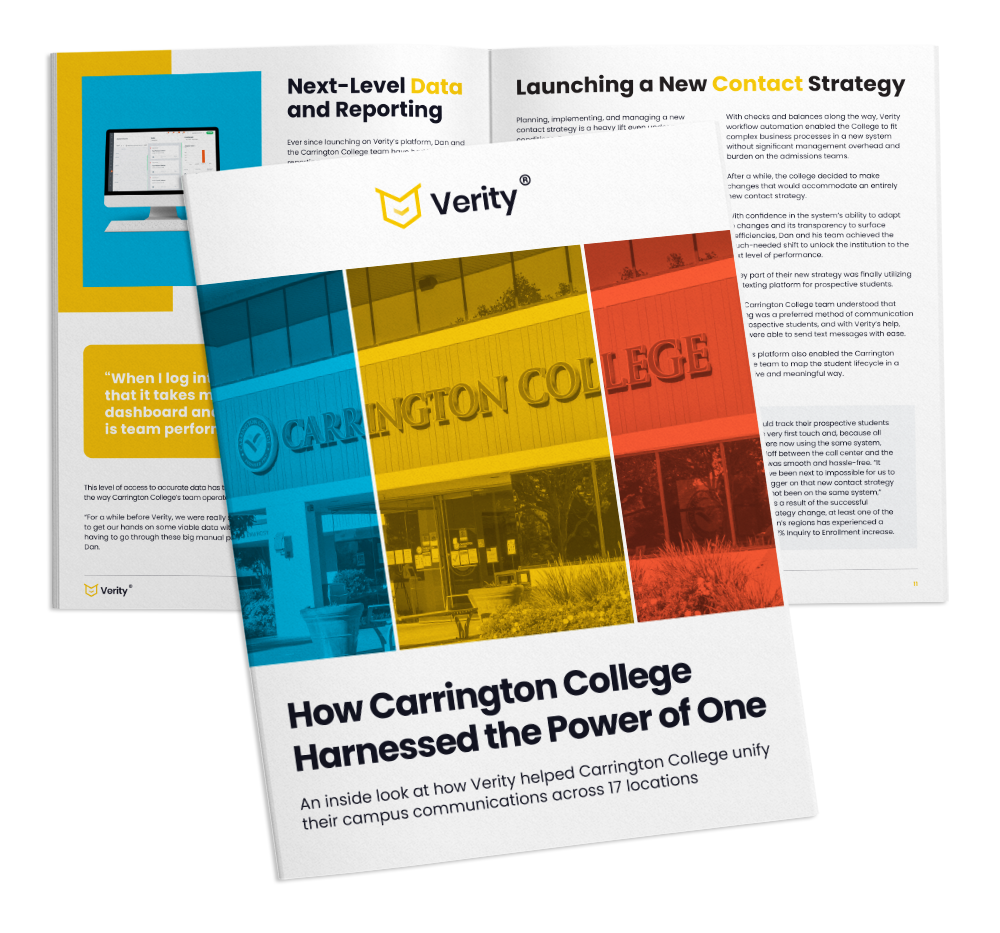 How Carrington College Harnessed the Power of One
Carrington College struggled with disparate Telephony systems, high cost of ownership, low vendor support, and a dated contact strategy. Read the full story to learn how Verity helped them:
Streamline and optimize their tech stack into a single platform

Launch and maintain a custom multi-channel contact strategy

Track and report on real-time engagement metrics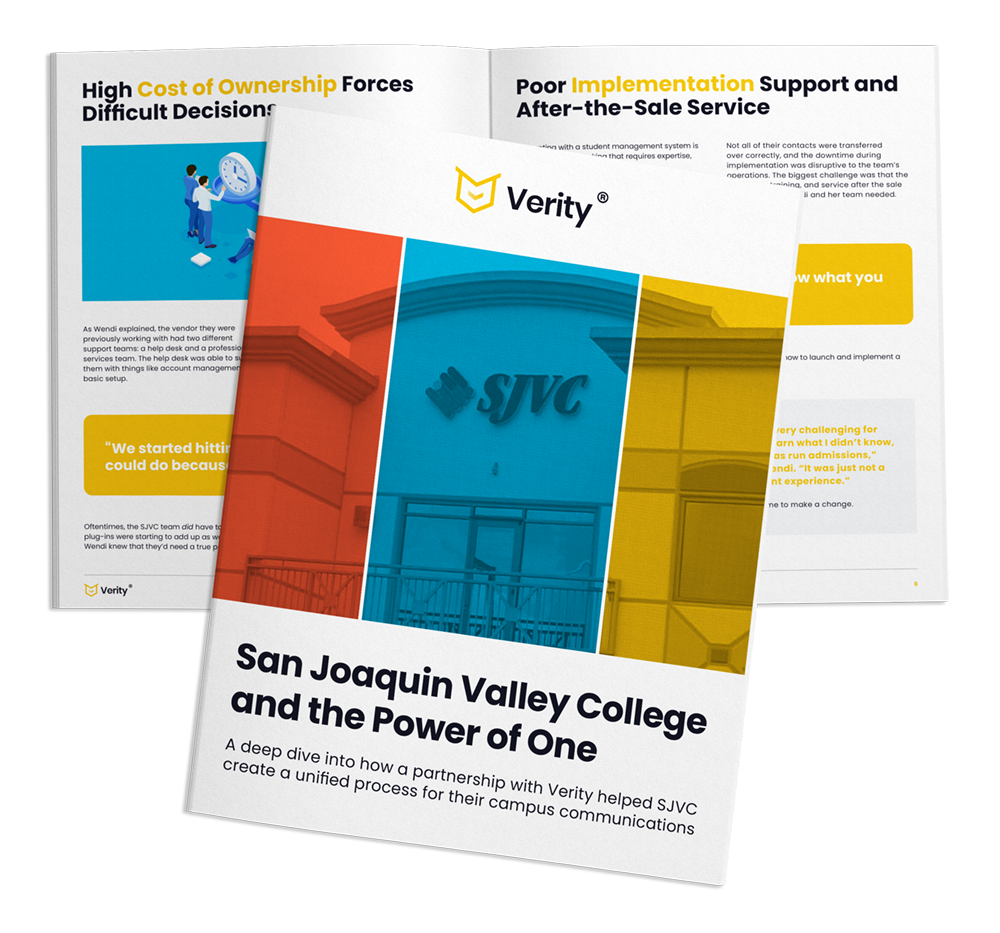 San Joaquin Valley College and the Power of One
SJVC was ready to grow, but their tech stack had limited scalability, high cost of ownership, and limited vendor support. They knew it was time to make a change. Read the full story to learn how Verity helped them:
Build a unique CRM solution specific to SJVC's structure and goals

Operate out of one core system and ditch 3rd-party plug-ins

Launch support and training without interrupting enrollment operations
Explore Our Recent
Blog

Posts
Get Instant Access to Our Higher Ed
Resources
Get a Private Demo of Verity
Want to see how you can effectively manage the full student lifecycle through multi-channel communication, marketing automation, paperless admissions, and more all in one powerful tool? We'll give you the grand tour! Just click below to schedule some time.